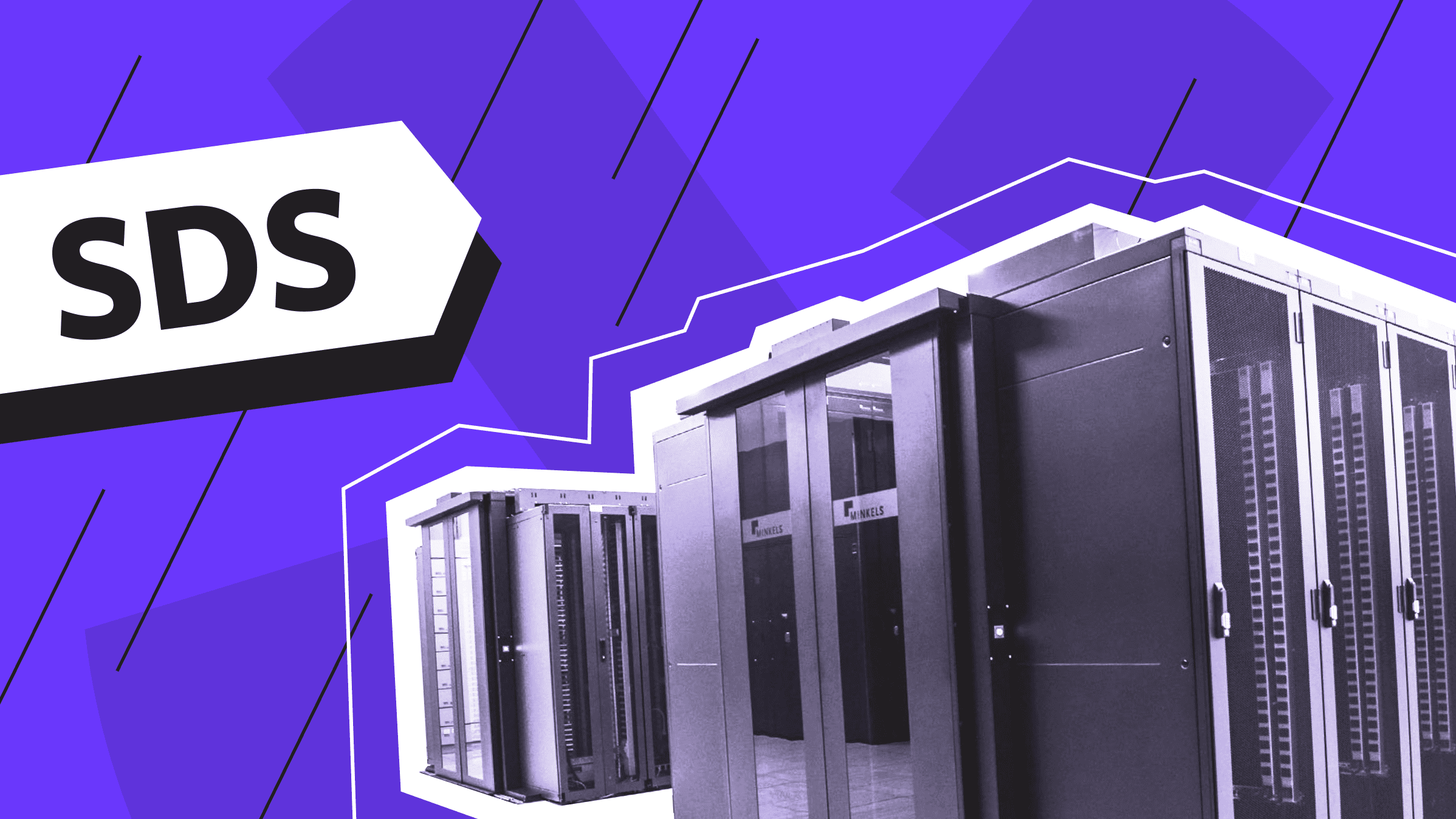 Every project or organization has a significant amount of data that needs to be stored and managed efficiently. Software-defined storage based on virtualization technology has emerged alongside traditional storage options such as NAS and storage area networks.
What is software-defined storage?
Software-defined storage (SDS) is a specific type of storage software that uses virtualization. It separates resources from hardware, providing greater flexibility and scalability in storage management and deployment. In addition, SDS software allows you to manage your storage infrastructure from a single interface, automating and optimizing the management of your entire data system.
At the same time, traditional NAS and SAN options, which will be discussed later, are hardware-centric. Therefore, it is much easier to make changes to SDS than to hardware-dependent systems. However, virtualisation has its drawbacks, which is why some organizations are reluctant to adopt SDS technology.
Advantages and disadvantages of SDS storage

The advantages of SDS software are:
By using SDS in your project, you can use hardware that can be easily upgraded or replaced. This provides a degree of flexibility in resource management.
SDS software scales horizontally and vertically, so organizations can easily add more storage resources as needed.
The cost-effectiveness of software-defined storage is such that no in-house hardware is required. Dedicated SDS hardware makes this storage option more cost-effective than traditional solutions.
A single management interface for all storage resources greatly simplifies the system and reduces administrative overhead. Properly selected API allows you to maximize automation and simplify system monitoring.
With SDS, you can store and replicate data to multiple "locations" simultaneously. This is necessary in emergency situations (equipment failure, force majeure, etc.).
With SDS storage technology, different types of data storage (e.g. block, object and file storage) can be combined in one infrastructure, improving data availability across different departments in an organization.
Users of this storage technology point out some of the drawbacks:
Dependence on software for the proper functioning of SDS. And for some organizations, building a reliable software and IT infrastructure can be a challenge.
Implementing and managing software-defined storage requires specialized skills and knowledge. In other words, you need time and expertise to train others.
SDS software can lead to security problems because it separates storage resources from the hardware, making data protection more difficult.
SDS Architectures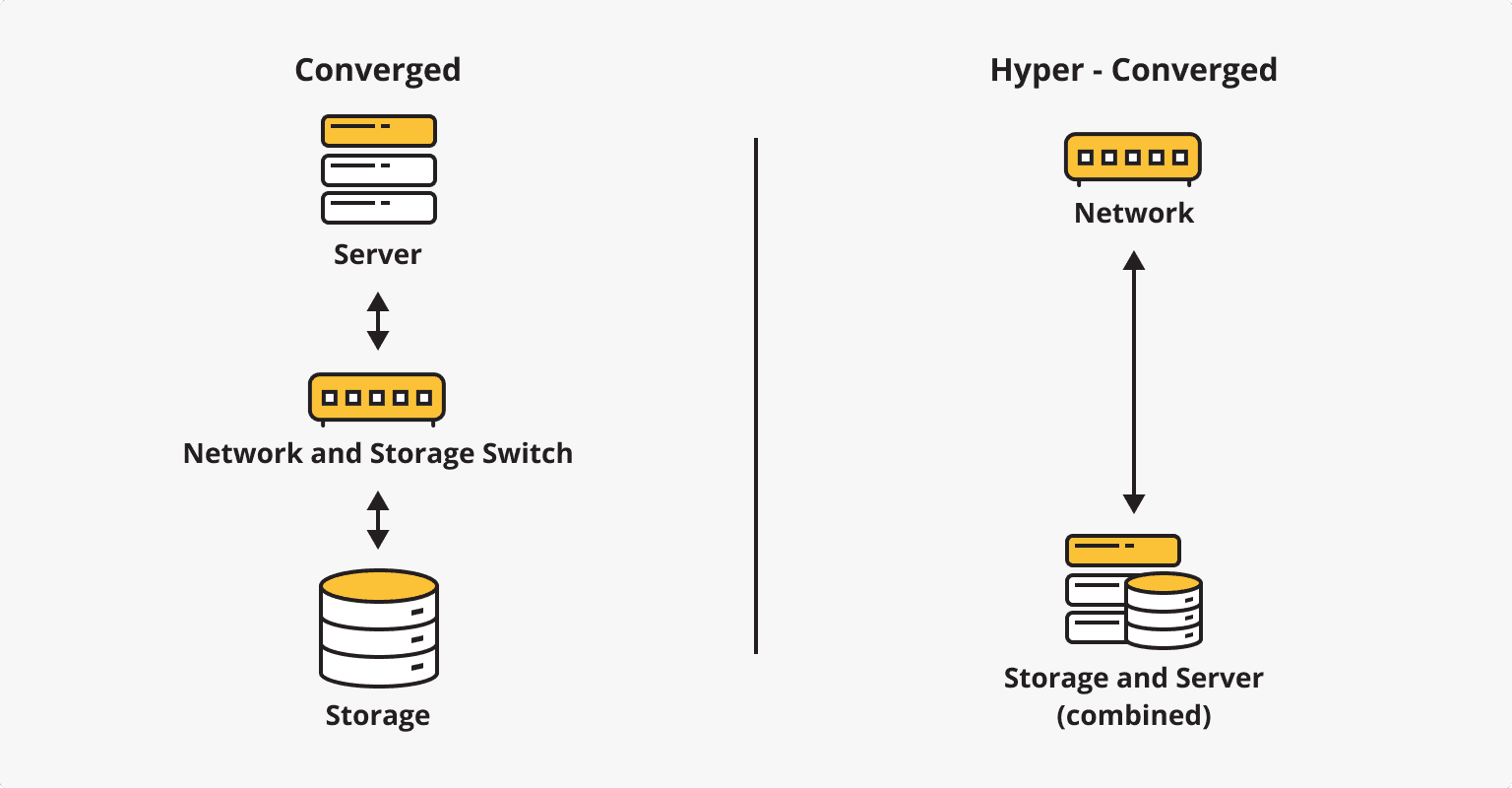 Hyperconverged Infrastructure (HCI) and Converged Infrastructure (CI) are two popular SDS architectures. The main differences between the two architectures are flexibility and cost.
Hyperconverged infrastructures combine computing, storage and networking resources into a single system through virtualisation. This simplifies management and increases scalability. HCI systems are often deployed in virtualized environments. In general, a hyperconverged infrastructure is advantageous in terms of flexibility, but it is more expensive.
Converged infrastructures also integrate the above into a single system, but with separate hardware used for each component. A dedicated network connects all the components, improving performance. CI infrastructures can be more cost-effective, but may not offer the same level of flexibility and scalability as HCI.
Data security and protection in SDS

The issue of data protection is important to be aware of when using software-defined storage. In this case, there are a few key security practices to keep in mind.
Pay attention to ports, network services and critical operations to reduce vulnerabilities in the system. Control, suspicious activity monitoring and access rights should also be considered: changes to administrative files should be infrequent and only a few users should have full access to the SDS. For greater control, use a notification system for all changes made.
In addition to the above, strong encryption of data should be provided on both the client and server sides. Network level encryption should be mandatory for all public services.
Open source SDSs do not use proprietary encryption and can be patched by the development community. Bug fixes are often made public, so users of this technology can gain insight into how to secure SDS. However, do not neglect your own efforts and take care of your security in advance.
Main providers of SDS storage technology

Among the most prominent vendors of software-defined storage:
IBM offers IBM Spectrum Storage, a range of SDS solutions that enable organizations to manage data across different types of media, including flash and disk.
Dell EMC provides Dell EMC Unity and Dell EMC Isilon, for storing and managing big data.
VMware vSAN provides hyperconverged infrastructure (HCI) that leverages the local storage of each server. It allows organizations to easily scale their storage infrastructure as their needs grow, just like other solutions in this area.
HPE StoreVirtual VSA software-defined storage provides features such as storage clustering, resource allocation, and snapshots.
NetApp ONTAP Select supports multiple protocols and features such as tiered storage, deduplication, and snapshots.
EMC ScaleIO offers dynamic provisioning, integrated data protection and flexibility.
SDS use cases

When should I use SDS?
SDS makes it easy to store and manage virtual machines, desktops and storage;
If you're researching customer behavior, business drivers, market trends and other business data you use, SDS technology can help you make informed decisions;
SDS is the ideal solution for cloud computing, whether you use public, private or hybrid clouds;
With software-defined storage, you'll not only have a hybrid infrastructure, but also the ability to respond quickly to force majeure with backup and disaster recovery.
Among other things, the SDS is used in:
Financial (J.P. Morgan has implemented SDS to improve the performance and reliability of its infrastructure for storing transaction and market trend data);
Medical (SDS is used to store patient data, including electronic medical records);
Media (CBS Interactive uses SDS to effectively manage the storage and delivery of digital content to users);
Retail (e.g. Walmart manages vast amounts of customer and shop data and makes decisions based on the analysis of this data);
Manufacturing (Bosch has implemented SDS technology to store and analyze data from all its factories);
Government (to manage data in information, tax, law enforcement, healthcare and other government systems).
SDS vs. Network-Attached Storage (NAS) vs. Storage Area Networks (SAN)

SDS uses virtualisation to keep resources separate from hardware and easily scalable. This makes it possible to recover quickly in an emergency, combine different types of storage and reduce costs.
Network Attached Storage (NAS) is a file-based storage architecture that allows users to access data over a network, typically using the NFS or SMB protocols.
NAS tends to be more scalable than SAN because it allows storage capacity to be increased by simply adding more hard drives to an existing system. NAS tends to be easier to manage due to its simple server architecture, and its cost varies according to its size.
SAN, or Storage Area Network, is a block-based storage architecture that connects servers to storage over a dedicated network using Fibre Channel or iSCSI protocols.
SAN is less flexible than its 'classic' competitor, requiring the addition of storage arrays or switches to increase capacity. Storage Area Networks are suitable for experienced users who are comfortable with block-level protocols and more complex interfaces. However, SANs differ from NAS in terms of performance and low latency.
The question of which of the three options to choose can be an issue for any project. In this case, we would reduce the decision to a willingness or unwillingness to virtualise resources.
Best SDS management practices

Proper capacity planning is critical to effectively managing software-defined storage. You need to have a clear understanding of your organization's storage requirements and growth plans. This will help you avoid overselling.
Automation tools can help you simplify management tasks and reduce the risk of human error. These include tools for provisioning storage resources, monitoring performance, and managing data protection and recovery.
Don't forget to monitor parameters such as connection latency, IOPS and bandwidth, as well as any capacity issues or other resource limitations.
Snapshots, replication, backup and recovery — all of this should be taken care of in advance to ensure business continuity in the event of a disaster or disruption.
It is important to implement good security practices such as access control, encryption and monitoring to protect storage resources from unauthorized access or data leakage.
Finally, choose a vendor with quality technical support. Timely expert help is essential for the long-term management of a software-defined storage system.
What is the future of SDS?

Gartner's strategic roadmap and forecast for the storage market clearly shows that 50% of global storage capacity will be deployed as SDS by 2024. Software-defined storage is often used in conjunction with SSD or NVMe, which significantly improves speed and reduces latency.
SDS gives developers and administrators the flexibility that traditional hardware-based storage cannot offer. It is a matter of scalability at any time, depending on whether the needs of the organization have increased or decreased. It is more cost effective than maintaining hardware that may not be in use
Open source SDS solutions and the major players in the storage market are only motivating developers to pursue virtualisation-based storage. It is only a matter of time and user commitment to the new technology.
Dedicated Server
​​Smooth operation, high performance, and user-friendly setup - it's all there for you.
From

$70.00/mo
Worldwide
is*hosting works with the best data centers worldwide and HI-END class equipment.
See

Coverage