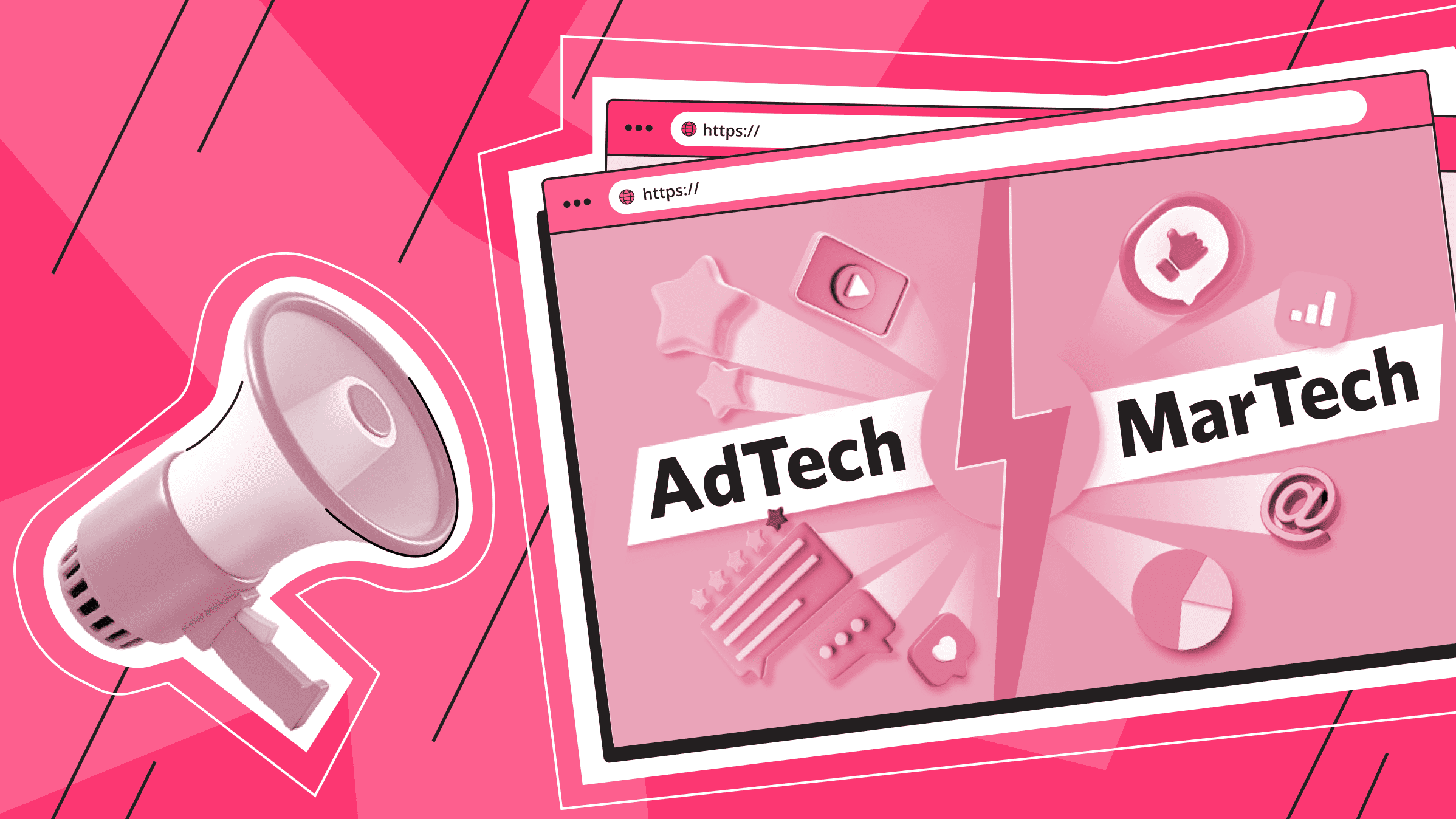 MarTech (Marketing Technology) and AdTech (Advertising Technology) are two interrelated terms that are often used in the world of digital marketing.
Looking at the overall differences, MarTech is more concerned with overall customer service, while AdTech is more focused on getting the right message to the right audience at the right time.
However, it is worth understanding which marketing tools belong to MarTech and which belong to AdTech. We've selected some of the most interesting examples and case studies of how these two areas of technology are being used. In the end, we will answer your questions about which technology is best to use, and when.
Understanding Martech

Marketing technology, or MarTech, is digital tools and software for planning, executing, and measuring marketing campaigns. In other words, it's safe to say that MarTech tools allow specialists to control all the marketing processes that take place on the Internet.
Among the examples of such tools are:
Customer relationship management (CRM) systems: Salesforce, HubSpot, Zoho CRM
Email marketing platforms: Mailchimp, Constant Contact, Campaign Monitor
Content management systems (CMS): WordPress, Drupal, Joomla
Social media management tools: Hootsuite, Sprout Social, Buffer
Search engine optimization (SEO) tools: Moz, SEMrush, Ahrefs
Marketing automation platforms: Marketo, Eloqua, Pardot
Web analytics tools: Google Analytics, Adobe Analytics, Mixpanel
E-commerce platforms: Shopify, WooCommerce, Magento
MarTech automates repeatable tasks, allowing marketers to focus on more strategic activities. It's also important for any marketer to be able to segment audiences, create personalized messages for each group and create more engaging and interactive campaigns.
Overall, the use of marketing technology enables a greater return on investment and more informed decision-making, as data about customers and their engagement with content can be used as a benchmark.
Understanding Adtech

Adtech, or Advertising Technology, is used to run and analyze online advertising campaigns. Adtech enables advertisers to target specific audiences, use multiple ad channels, and optimize advertising budgets.
Adtech tools include:
Advertising platforms: Google Ads, Facebook Ads, Twitter Ads, LinkedIn Ads
Demand-side platforms (DSP): The Trade Desk, AppNexus, MediaMath
Supply-side platforms (SSP): Google Ad Manager, Rubicon Project, PubMatic
Ad networks: Google AdSense, AdThrive, Media.net
Ad exchanges: OpenX, DoubleClick Ad Exchange, AppNexus
What do you get with AdTech technology? Improved targeting and personalization, increased content visibility, optimized ad campaigns, more accurate ad metrics, and ad spend management. The result: consumers get content they care about, advertisers get more response, and increased ROI.
Key Differences Between Martech and Adtech

MarTech and AdTech both involve the use of technology to optimize marketing and advertising efforts. However, the main difference lies in their focus.
MarTech is about helping businesses attract, engage and retain customers through digital technologies and tools. These tools increase brand awareness and accelerate revenue growth by improving customer relationships. Accordingly, the target audience for MarTech platforms is businesses and marketers.
AdTech is specifically designed to enable advertisers to create and deliver more targeted, relevant, and engaging ads to their audiences. Improving ad effectiveness, increasing conversions, and optimizing ad spend is what AdTech is all about.
MarTech data collection and analysis methods include web, social media, email marketing, and CRM analytics. AdTech is dominated by advertising effectiveness metrics, attribution modeling, and audience analytics. Different objectives - different types of data.
The right use of tools from both technology areas can add a "wow factor" to any project. For example, identifying and segmenting audiences based on interests and geographic location, and then showing them specific ads across multiple channels.
How Martech and Adtech are Shaping the Future of Marketing
Undoubtedly, the move of marketers into the online space and the development of MarTech and AdTech technologies have taken the personalization of marketing activities to a new level. It is now possible to take into account unique customer experiences and characteristics, use automated systems, and continuously monitor the results of your work.
Data security is an important issue, and online technology plays a key role in this. All of the tools described above collect statistics and customer data, and any business needs to avoid undermining user trust and comply with regulatory requirements such as GDPR and CCPA.
The personalization of content, the use of machine learning, the increasing importance of privacy, and much more will be enhanced by MarTech and AdTech. These technologies bring invaluable benefits to marketers and advertisers around the world, which only encourages their developers to evolve.
Choosing the Right Martech and Adtech Tools for Your Business

What to consider when choosing tools to work with the Marketing and Advertising System:
Decide on your business goals, the objectives of your online activities, and the results you want to achieve;
Study the experiences of other business owners using MarTech and AdTech, and choose tools with an interface you understand and a set of features you need;
You may need to use other tools as well, so make sure you have the integration capabilities;
The platform you choose should have good technical support so you can get expert help when you need it.
Amazon uses Martech and Adtech tools to personalize the shopping experience for its customers. By analyzing user data, Amazon can recommend products and offer personalized promotions to individual customers.
Spotify improves the music experience for its users with Martech. By analyzing listening history, location, and device type, Spotify can create personalized playlists, recommendations, and advertising.
Sephora has introduced augmented reality (AR) and virtual fittings, which is also a successful example of using Martech. For example, customers can virtually 'try on' cosmetics and see how they look on their skin before making an online purchase.
Why use Martech and Adtech?
Martech refers to the tools and technologies used to automate and optimize marketing processes, while Adtech refers to the delivery and optimization of advertising campaigns.
Using both Martech and Adtech together as part of the overall marketing strategy can help companies strengthen their market position, improve user relationships, and market themselves more effectively. By harnessing the power of data and automation, companies can deliver personalized and relevant messages to the right people at the right time.
The ability to understand and analyze your customers can have a huge impact on the success of a project. Implementing some Martech and Adtech tools can be challenging, but it's essential for companies that want to compete in the digital age.