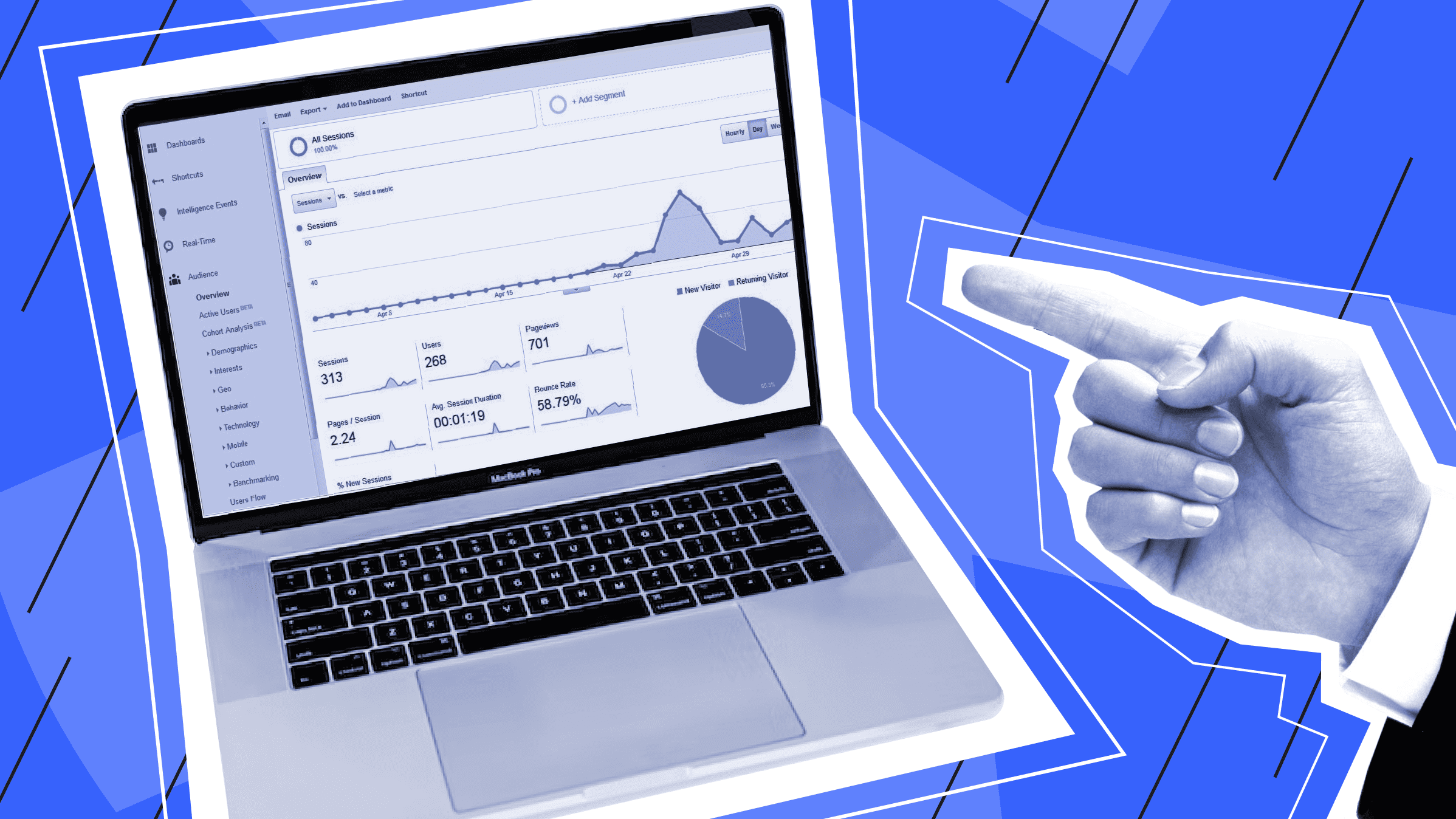 If you know what your customers need, they will come back to you repeatedly to meet their needs. Collecting and analyzing statistics is one of the most critical stages of any project. And if you still need to choose a data collection tool, we're here to help.
Why should you check your competitor's traffic as well as your own?
Website traffic can be defined as the number of users visiting a website during a certain period. There are also other indicators that are worth pointing out.
Gathering data about site statistics, including traffic, is integral to any site's development. This information is used to learn about how the site is performing and to make decisions about how to improve both user experience and the site's overall effectiveness.
Web analytics indicators include:
Traffic — the total number of unique users visiting the site in a given period.
Traffic sources — paid or organic traffic, people finding your site from search engines or social networks, and links to your site from other sites - are all essential to know.
Page views — the total number of pages viewed on your site in a given period.
Bounce rate — the percentage of visitors who leave your site after visiting only one page.
Average session duration — the average time a user spends on a website.
Conversion — the percentage of visitors who complete a desired action on the site, such as paying for a purchase or filling out a form
Thanks to advanced analytics tools, website owners don't need to calculate these figures themselves. All reports in tables and graphs can be generated in seconds, and all that remains is to analyze the data.
Why is it essential to track webpage traffic?

Web analytics indicate how well a website is performing. This information helps website owners understand what is working correctly and what could be improved. It is important to know not only the strengths but also the weaknesses of your site.
Analyzing user behavior allows you to identify areas where the user experience can be optimized. For example, slow-loading pages or difficult navigation can be added to the 'to improve' list.
You can measure the effectiveness of marketing and advertising campaigns — for example, the number of conversions from a particular source or the return on investment from a specific advertising campaign, which will allow further corrections.
Web analytics data allows website owners to make informed decisions about site design, content, and marketing strategies, rather than relying on intuition or guesswork.
Collected statistics can provide insight into how search engines perceive your site and which keywords and phrases drive traffic. Web-masters can use this information to improve search engine optimization (SEO) and increase website visibility.
By analyzing site visitor behavior, you can learn about your customers' needs, preferences, and motivations, which can help inform decisions about product development, customer service, strategies, and direction.
Tools for analyzing website traffic data
Google Analytics

Google can answer almost any question, including about website traffic (who, where, and when), conversions, user behavior, etc. Google Analytics is more complex than its competitors, but it also offers a wealth of information that can be monitored in real-time and analyzed over time.
With over 500 metrics, it's possible to analyze websites, mobile apps, and YouTube channels. Smooth integration with other services makes your job easier.
With Google Analytics, you get up to 10 million visits per month per account for free. However, there is a downside - due to sampling, the information in the reports may be slightly less detailed and accurate. If the number of sessions exceeds 500,000, the analysis and reporting will be based on a sample rather than the entire dataset.
Google Search Console

This toolkit from Google lets you analyze the search requests users make, keep track of how your site is indexed, and troubleshoot certain pages in time. This helps you to guide more users to your site.
Search Console statistics can be used on both PCs and mobile devices. CTR, average positions, clicks, impressions, key web metrics, links - everything a webmaster and SEO specialist needs is available.
We recommend using this service with Google Analytics or similar tools to get more information about your website.
SEMRush
SEMRush provides insight and analysis of search engine optimization (SEO), pay-per-click (PPC) advertising, and website content. You can evaluate overall traffic, analyze by location and traffic sources, compare with competitors, and get access to more comprehensive information for website development.
SEMRush integrates with other tools and platforms, such as Google Analytics and Search Console. Therefore, we recommend using several services together to ensure you get all the data you need.
The service includes a free trial, making it affordable for companies of all sizes and budgets. We recommend the Pro, Guru, and Business subscriptions for larger projects and data volumes. P.S. — You can save on monthly fees by getting the paid version for a year.
SimilarWeb

If you want to focus on traffic analysis without SEO and marketing tools, you should choose SimilarWeb.
In addition to global and more detailed site rankings, you can get comprehensive information about traffic sources and a list of your closest competitors. It is an excellent tool for preparing and adjusting website strategies.
The free version is only available for seven days, so it is recommended to choose a specific plan. There is a choice of plans with tools for different areas: Digital Marketing Intelligence, Digital Research Intelligence, Sales Intelligence, Stock Intelligence, and Shopper Intelligence. The service also offers a free browser extension.
Serpstat

It's possible to analyze visits, backlinks, rankings, and site audits not only for your own site, but for any site — just enter the domain in the Serpstat search box.
This service has evolved from a simple keyword analyzer and is now widespread in both paid and free versions. In general, you can get enough information for analysis without a subscription, including the top pages and their visibility, traffic trends, and keywords.
For sites with low traffic, the data and analysis provided by Serpstat may be limited. Serpstat is a good tool for SEO, PPC, and content marketing, but it can't provide some users with the other digital marketing tools. So the advice is the same - use it in conjunction with other tools.
Ahrefs

Another popular SEO tool that allows you to get all the information available about your own website and the websites of your competitors. Ahrefs' simple interface is all you need to analyze key web metrics.
After scanning the website you're interested in, you'll find data on organic traffic, keywords, domain authority, top competitors, and more in the overview report. Ahrefs has been scanning millions of websites since 2010 - and all this information is easily accessible.
It's worth noting that the service does not analyze other traffic sources (e.g., social networks) and does not provide any further marketing information. Ahrefs' pricing plans are also considered expensive, so it is wise to choose your toolkit wisely.
MonsterInsights

MonsterInsights is a plugin for WordPress that provides website analytics data. It integrates with Google Analytics and gives a more user-friendly interface for accessing and analyzing website traffic and visitor behavior data.
MonsterInsights allows website owners to create custom reports based on the data they want to see, which can help track specific metrics or analyze data in a particular way. The service includes advanced e-commerce tracking capabilities.
There is a downside: any limitations or restrictions on Google Analytics will also apply to MonsterInsights. For one year, you can choose from a range of plans (Plus, Pro, and Agency) — the service offers a 14-day money-back guarantee.
How to check competitors' website statistics
Some of the listed tools for collecting statistics on your own site can also help you find out primary data about the traffic on competitors' sites.
Information on competitor sites, in general, can be found using SimilarWeb, Serpstat, and Semrush.
Serpstat and Semrush also can be used to find out the keywords of your competitors in SEO and PPC.
Another option for competitor analysis is the SEO plugins RDS bar and SEOquake. They can give you a lot of helpful information, including website traffic over the last 24 hours, complete SEO webpage audit data, social media stats, including Facebook and Google+, and more.
An important disclaimer — It is not always possible to get exact statistics on traffic using competitor analysis tools, as there is a high chance of inaccuracy.
As well as monitoring your competitors' statistics, don't forget to keep an eye on trends in your own project. Compare, analyse and make decisions based on specific indicators.