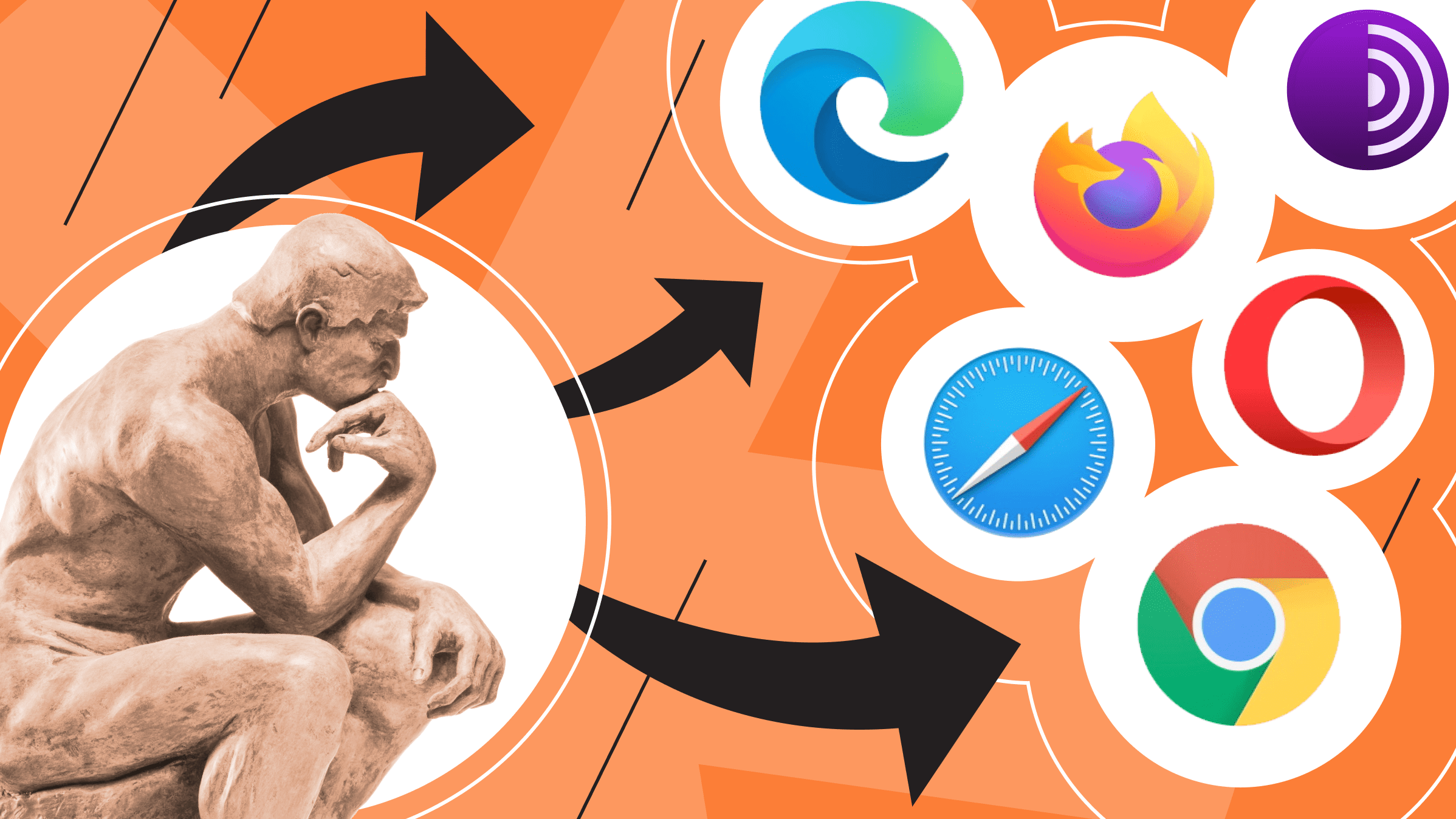 The Google Chrome browser is on literally every device. While people will always use the apps and programs they are comfortable with, Chrome's monopoly is worrying, and alternative browsers offer more features.
For those who value privacy, security, and customization in their browser, we've selected a few options you can use right now. There are also several criteria you can use to choose an alternative browser and improve your user experience. Read all about it in our article.
Why consider alternatives to Google Chrome?
Google Chrome is one of the world's most popular web browsers. In February 2023, Chrome held more than 61.80% of the global browser market share, followed by Safari, Firefox, and Microsoft Edge.
Chrome's dominance is due to its fast performance, user-friendly interface, and ease of syncing across devices. However, some users are concerned about Chrome's privacy practices and the amount of data it collects.
As a result, many users have begun to explore alternative browsers that prioritize privacy, security, and customization, such as Firefox, Brave, and Tor. These browsers offer features such as modifying ad blocking, anti-tracking, and built-in VPNs to protect users' privacy and security. They also offer great flexibility in terms of customization and open-source development, allowing users to tailor their browsers to their specific needs.
Browser diversity is important not only for users but also for the Internet ecosystem. It stimulates healthy competition between developers and brings innovation to the market. Support from users and developers has a significant impact on the creation of new features in web browsers and their further improvement.
Popular Chrome Alternatives
Microsoft Edge - the most perspective Chrome alternative

Features and Benefits
Who doesn't know Microsoft Edge? Microsoft's browser was first released in 2015, at the same time as the first version of Windows 10. The main focus of the browser is speed, reliability, and convenience. Edge's key features include a customizable home page, built-in tools, and integration with Microsoft.
Microsoft Edge is tightly integrated with Windows 10, making it the default browser for many users of this OS. This integration ensures seamless data synchronization across devices and easy access to Microsoft services such as OneDrive and Office.
Privacy and security
User activity tracking protection, password control, and built-in protection against phishing and malware are all part of Microsoft Edge's security.
Today, with a 5.13% market share, Microsoft Edge is far from the market leader. Despite some security tools, Edge's main drawback is security. Microsoft also collects a lot of data.
Mozilla Firefox - perfect open-source solution

Features and Benefits
Firefox is an open-source browser renowned for its speed and flexibility. Some of its key features include a user-friendly interface, tabbed browsing, automatic updates, and easy customization. The Firefox browser has a 2.68% share of the global market.
This browser offers a wide range of add-ons that allow users to customize their browsing experience. These include ad blockers, password managers, and privacy tools.
Privacy and security
Firefox pays close attention to user privacy and security, offering anti-tracking protection, a private browsing mode, and built-in phishing protection to keep users safe online.
However, Firefox, some users say, takes up a lot of memory and has compatibility issues (some sites don't display correctly).
Safari - popular Chrome alternative for Apple

Features and Benefits
Safari is a browser that has traditionally worked best on Apple products. And unfortunately, you can only use Safari with MacOS, iOS, and iPadOS. Today, it has a worldwide market share of 24.36%.
Safari is perfectly integrated into the Apple ecosystem. Its key features include tabbed browsing, Reader Mode, and syncing with iCloud. Safari takes user privacy and security very seriously.
Privacy and Security
It includes features such as Intelligent Tracking Prevention, which blocks third-party cookies, and protection against rogue websites and malicious content. Safari also includes built-in support for two-factor authentication for extra security.
Disadvantages of this browser include its Apple-only availability, lack of plug-in diversity, and inability to modify code.
Lesser-Known Chrome Alternatives
Opera - the fastest Chrome alternative

Features and Benefits
Opera is a browser that has a number of built-in features to protect your privacy. It also includes a number of customization options, including browser themes.
When you use Opera, you get:
A built-in ad blocker and VPN for increased privacy and security;
Battery saver mode for long browsing sessions on laptops and mobile devices;
Customizable home page for quick access to frequently visited resources;
Support for Chrome extensions.
Privacy and security
If you care about your data privacy, Opera Browser is better than Google Chrome. Chrome states that they are doing a lot around security and privacy, but actually collects a hefty amount of user data by default.
Opera doesn't have a progress bar for loading websites and some websites don't load properly in Opera, which can make your experience with this browser worse.
Overall, Opera is as well known as Firefox or Edge but has a tiny market share.
Chromium - the light open-source version of an alternative browser

This open-source browser is different from Chrome. The same engine, a similar interface, and basically the same features as Chrome, but no direct ties to Google services. Chromium has no built-in search engine, so your experience is brand neutral.
Features and Benefits
With the ability to customize the browser through code, it's ideal for the Linux family and is secure and stable. It is regularly updated thanks to a community of developers, and users have the same regular extensions available as they do in Chrome.
Privacy and security
Chromium may not have the same level of support for some multimedia as other browsers. Chromium also does not have the same level of built-in privacy and security features as Firefox or Tor.
Brave - good solution for security

Brave focuses on privacy. It also offers a built-in cryptocurrency wallet and a rewards system for users who prefer to view ads with privacy.
Privacy and security
In terms of security, the browser blocks trackers, malicious content, and phishing attempts by default. Brave uses HTTPS Everywhere, a security protocol that encrypts all connections between your browser and websites.
Rewards program for users
Brave users can also earn Basic Attention Tokens (BATs) by viewing ads with privacy. BATs can be used to support content creators, to tip other users, or in exchange for other cryptocurrencies.
Vivaldi - the browser for advanced users

Based on Chromium, Vivaldi is designed for advanced users who require a high level of customization. It offers a range of personalization features such as customizable tabs, embedded notes, and advanced keyboard shortcuts.
Customization options
The ability to view two websites side-by-side with split-screen functionality, the ability to create custom shortcuts and mouse gestures for increased productivity, and support for Chrome extensions are all found in Vivaldi.
Privacy and security
In terms of security, the browser uses a built-in ad and tracker blocker that syncs with encryption to keep user data safe. You can also disable WebRTC and block third-party cookies.
Tor Browser - the best alternative browser for privacy

The Tor Browser is a browser that also focuses on privacy.
Access to the Tor network
Tor routes your Internet traffic through its own network, making it difficult for anyone to track your online activities. It also includes a number of built-in privacy features, such as NoScript and HTTPS Everywhere.
This browser hides your IP address and online activity from third-party trackers and government surveillance. And you can access the darknet and other sites that may be blocked by your internet service provider.
Privacy and security
No data logging or browsing history tracking, and your personal choice of hosts through which to encrypt your data. Now you know which browser will give you complete anonymity.
Pale Moon - light and flexible Chrome alternative

Pale Moon is optimized for speed and performance. It has a flexible and user-friendly interface and a number of customization options. It also offers you the ability to install various add-ons (even legacy ones).
Privacy and security
Built-in ad blocker and tracker blocker to protect your privacy;
Ability to disable WebRTC and other privacy-invasive features;
No data logging or browsing history tracking.
Flexibility
The Pale Moon browser has a lightweight interface and is just as good as other lesser-known browsers.
How to Choose the Right Alternative Browser?
There are several factors to consider when choosing a browser:
Choose browsers that prioritize user privacy and offer built-in security features such as anti-phishing and anti-tracking;
The ability to customize your browsing experience in terms of interface and other features is important;
There is a wide range of add-ons and extensions that can improve your browsing experience and performance;
Make sure the browser you choose is compatible with your operating system and any devices.
If you are switching browsers, be sure to import your bookmarks and settings from your old browser into your new one to make the transition smoother. We recommend spending some time familiarizing yourself with the interface and features of your new browser. Many browsers offer tutorials and guides to help you get started.
If you have any problems with your new browser, contact the browser's technical support or check community forums to get advice.
In general, it is important to consider your specific needs and preferences. By testing different browsers and learning about their features, you can find the one that is perfect for you.
Making the Switch to a Chrome Alternative

You can import bookmarks and familiar settings for a complete transition to the new browser:
Open the new browser and find the settings window;
Find the option to import bookmarks and preferences;
Select the browser from which you want to import your bookmarks and settings;
Select the items you want to import, such as bookmarks, browsing history, and passwords;
Click the Import button and wait for the process to complete.
Factors to consider include your preferences, privacy and security, customization options, add-ons and extensions, and compatibility with your operating system and devices.
Mozilla Firefox, Microsoft Edge, and Safari are just a few examples of alternative browsers to explore. Each has its own unique features and benefits. Just give them a try!
No one is prohibiting you from using more than one browser at a time. Try Tor for privacy, Vivaldi for professional purposes, Firefox for speed, and Opera just because you like it.