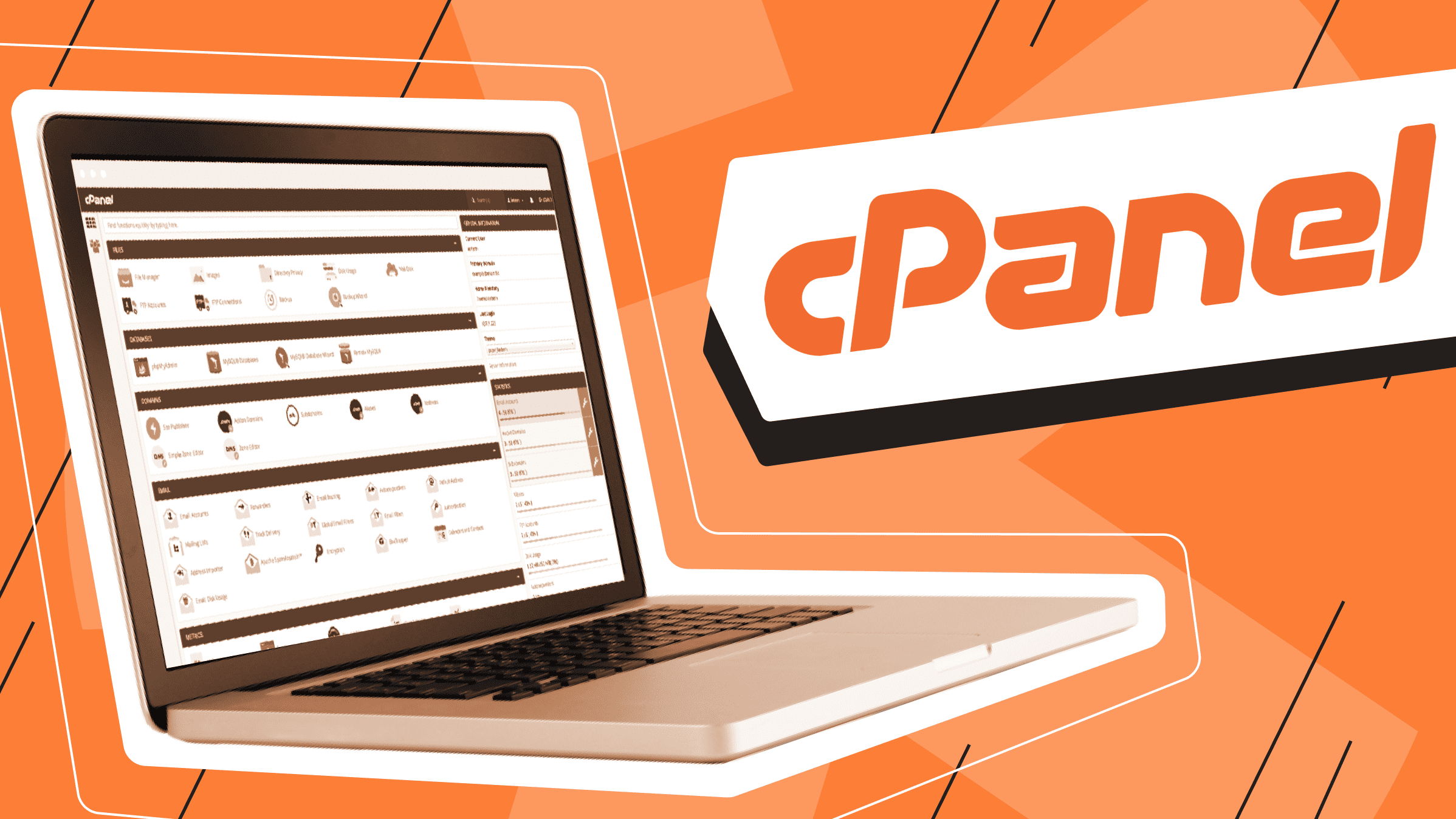 If you've ever used hosting, you've probably heard of cPanel, a web panel for managing hosting services. It has a simple interface, straightforward features and is generally a popular control panel option. However, it does have some drawbacks.
What is cPanel?
cPanel is a Linux-based GUI that allows users to easily manage web hosting services. It is designed to be user friendly, allowing beginners to easily manage their hosting accounts without requiring extensive technical knowledge.
What is cPanel used for?
With cPanel you can create and manage accounts, PGP keys, email and FTP accounts, mailing lists, CGI scripts, HotLink protection, SSL manager, web application installation, MySQL database management, backups and much more.
There are several add-ons available, including automatic installers such as Installatron, Fantastico, Softaculous and WHMSonic (SHOUTcast/radio control panel add-on). These add-ons are available after being added to WHM by the server administrator. Purchasing these add-ons may improve the user experience.
Some people compare cPanel to Enkompass. As for the Microsoft Windows version of cPanel & WHM called Enkompass, it was declared obsolete in February 2014. Version 3 remained available for download, but without further development and support.
cPanel Features

cPanel offers a number of features that make it an attractive option for web hosting. Some of these features include:
Easy-to-use graphical interface
One-click installation of popular web applications such as WordPress and Joomla
Built-in email management tools, including autoresponders and email forwarding
Backup and recovery tools for data and databases
File manager for organizing files on the server
Access to web statistics and analysis
Ability to manage multiple domains from a single account
Security features such as SSL certificate management and IP blocking
Pros and cons of cPanel hosting
The advantages of hosting with cPanel are
This panel is designed to be simple even for beginners;
cPanel offers a wide range of features that make it easy to manage your hosting services;
Along with other panels, cPanel is widely used by hosting providers, making it easy to find the right provider;
A large community of users and developers provides support and guidance, which also makes this panel more reliable.
The cost, limited customisation and dependence on the hosting provider are some of the disadvantages of hosting with cPanel.
This control panel is far from free, but some users do not notice this as it comes standard with some hosting services. What this means is that cPanel may not be suitable for projects with a small budget. As for the settings, this is a consequence of the easy-to-learn interface. The developers wanted to create a simple web control panel, and this precludes the presence of extensive settings.
When it comes to support and updates, users are dependent on the provider from whom they are renting their cPanel hosting.
cPanel vs alternative management tools

When we talk about server management, cPanel is not the only control panel available on the market. There are several other popular options that hosting providers can offer, including Plesk, DirectAdmin and Virtualmin.
Plesk - a good alternative for cPanel
Plesk is a control panel that is similar to cPanel in many ways. It offers a user-friendly interface with a number of features to make web hosting easier. However, Plesk is generally considered to be more expensive than cPanel, which can be a stumbling block for some users.
DirectAdmin - the least resource-intensive control panel
DirectAdmin is a lightweight tool with a simple interface. It is less resource intensive than cPanel, which can be a big advantage. However, DirectAdmin has a limited feature set compared to cPanel.
Virtualmin - the great option for advanced users
An open source control panel designed for use with the popular Apache web server software. Yes, we're talking about Virtualmin. This powerful and flexible alternative offers a number of essential features, but can be less user-friendly. Nevertheless, this control panel is suitable for advanced users.
When choosing a control panel, it is important to consider your specific needs and capabilities. Think about interface, functionality, speed, cost, etc.
How cPanel works: A Beginner's Guide

Using cPanel is quite simple. Once you have signed up for hosting with cPanel, you will receive login details for your cPanel account. From there, you can configure the various features offered by cPanel (email management, file management and web application installation). cPanel also provides documentation and support resources to help users get started.
File Manager
The File Manager in cPanel is a powerful tool that allows you to manage your site's files and folders directly from your web browser. To access the File Manager, log in to your cPanel account and click on the File Manager icon. From here you can navigate through your site directories, upload and download files, create and edit files, and change file permissions.
Databases
The Databases section of cPanel allows you to manage MySQL databases. Here you can create new databases, add users, manage user access rights and import/export database backups. Ensure that you have a backup plan in case of force majeure.
Softaculous Apps Installer
Softaculous is an application installer that allows you to quickly install a number of popular web applications, including WordPress, Joomla and Drupal. Simply click on the "Softaculous Apps Installer" icon. Select one of the available applications and follow the instructions to install it on your website.
Software
This section is used to perform all operations on various software, including PHP versions, Perl modules and Ruby Gems. You can also install and manage SSL certificates from this section.
Domains
As mentioned above, cPanel allows you to manage multiple domains at once. There is a Domains section where you will find tools for adding new domains, subdomains and aliases, setting up redirects and DNS records. If you are just planning to set up your own website, we recommend learning more about the Domain Name System (DNS), setting up CNAME and why it is important to know the age and history of the domain you are buying.
Metrics
The Metrics section of cPanel is designed to monitor the performance of your website, including traffic, visitor statistics and resource usage. You can use this section of cPanel to configure custom error pages as well.
Security
You can manage your website's security settings, including installing SSL certificates, managing firewalls and setting passwords in cPanel from the Security section. We also recommend selecting users who will have responsible access to administrative settings.
Email
The Email section of cPanel is used to manage your site's email accounts, including setting up new accounts, managing email distribution and setting up filters. You can also access webmail clients from this section.
In general, the configuration of the hosting control panel is similar in each tool. If necessary, you can always use the provider's knowledge base if you encounter difficulties.
Common questions: do I need cpanel and is it free

Is cPanel free to use?
No, cPanel is usually offered by hosting providers and is not free to use.
Do I need cPanel?
If you want to simplify the administration of your server, you need cPanel. It is the ideal tool for beginners and does not require any special technical skills. We recommend this tool if you want a user-friendly interface and have no experience in server administration.
Can I transfer my cPanel account to a new provider?
Yes, you can transfer your cPanel account after renting a server to a new provider. For example, the is*hosting team transfers customer projects to new servers after rental free of charge.
What is the difference between cPanel and WHM (Web Host Manager)?
cPanel is designed for end-users to manage hosting services, while WHM is designed for providers as a tool to manage multiple cPanel accounts.
Can I customize the cPanel interface?
Yes, you can customize the cPanel interface with different themes and style options.
Tips for choosing the best cPanel hosting provider
When choosing a hosting provider that offers cPanel hosting, there are several factors to consider. Here are some of them:
Look for a provider with a good reputation and positive customer feedback.
Choose an ISP that offers quality 24-hour customer support.
Compare the pricing plans of different ISPs to make sure you are getting a good deal.
Pay attention to the amount of storage space provided, bandwidth, overall server configuration and scalability.
You need a hosting provider that guarantees high uptime so that your website is always available.
Remember that before renting a server, you can always contact the representatives of the hosting provider to learn more about the possibilities of a particular type of hosting, and ask for help in choosing the configuration.
The is*hosting team is available 24/7 to answer your questions. When renting an is*hosting server you can choose cPanel as your control panel, but we always give our customers the choice of other tools. Just contact us and we'll help you choose hosting or make the ideal offer for you.
cPanel is a popular control panel for hosting, but it is not the only option. Try different options and choose the best one for your project.
VPS
Choose the suitable configuration and enjoy all the benefits of a virtual private server.
From

$5.00/mo
Dedicated Server
​​Smooth operation, high performance, and user-friendly setup - it's all there for you.
From

$70.00/mo