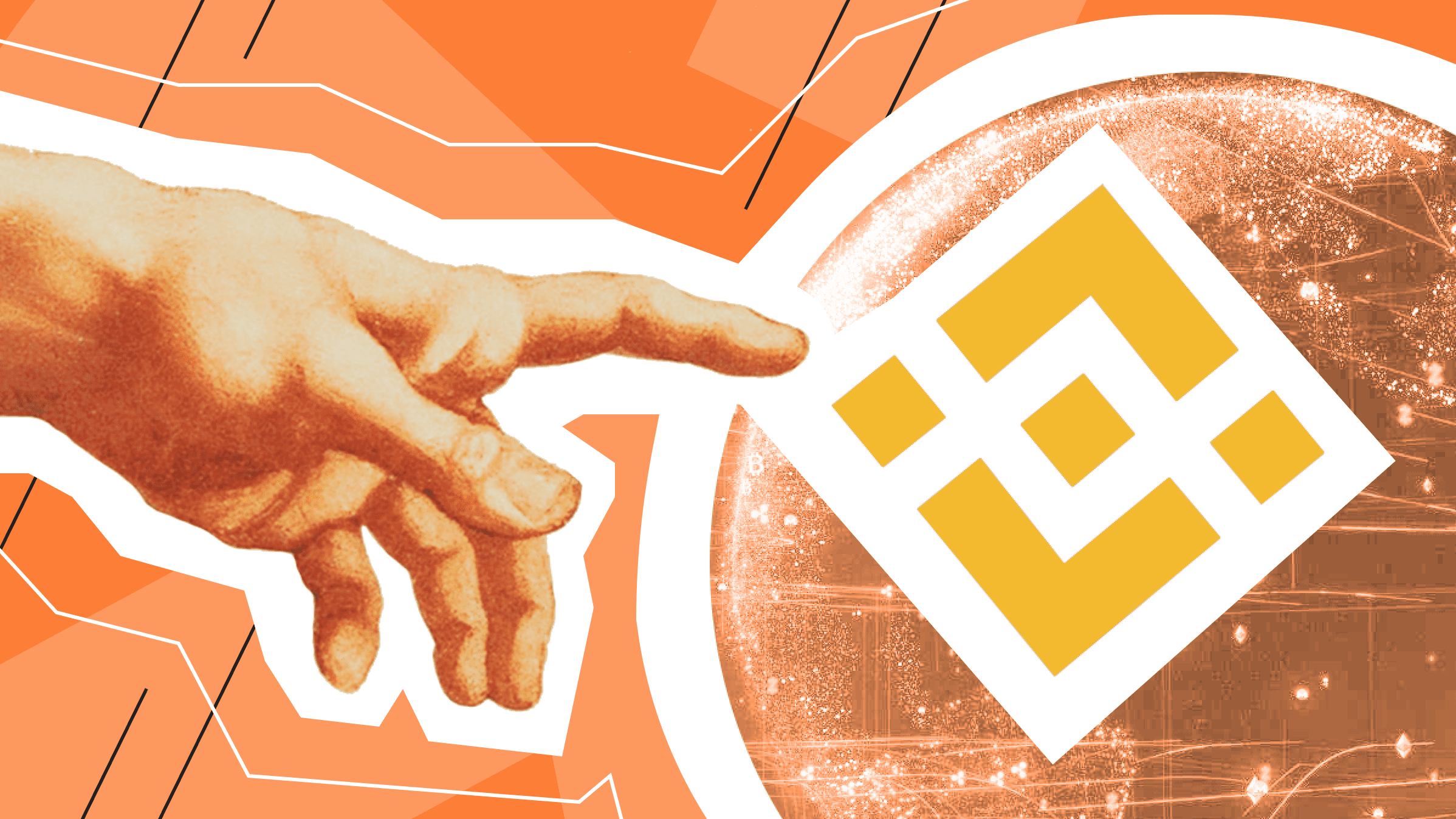 Every cryptocurrency trader knows the importance of Binance. You can use Binance as a trading platform and transact with BNB. One of the most popular solutions nowadays is to trade with bots. You need a virtual server to manage the exchange transactions with trading bots comfortably and, most importantly, quickly.
A short history about Binance
Binance was launched in July 2017. Within 180 days, the platform had become the world's largest cryptocurrency exchange.
Success in the marketplace always comes with challenging competition. FTX, an online digital currency exchange service, was founded in 2019 and showed great promise. Hefty contracts and development plans attracted many users to the new platform. However, in November 2022, FTX began to "collapse." Binance, or more precisely its founder CZ, considered buying the "dying" platform but soon abandoned the idea.
As a result of the turmoil in the markets brought on by FTX's downfall, Binance users ended up withdrawing over $1 billion from the Binance platform in a single day. However, this did not prevent Binance from staying afloat, and even enhanced its reputation as a more stable and secure platform.
Binance now trades at an average daily level of $38 billion. The exchange claims to have the lowest transaction fees. And as a result of its service, it has around 120 million registered users.
What are cryptocurrency trading bots?

Binance has the most significant number of trading bots of any cryptocurrency exchange that supports bot trading. Traders still have the option to use manual order types.
The use of bots on Binance is justified by their speed, uninterrupted operation, and lack of emotion, which can overpower a human at a critical moment and affect a transaction.

Trading bots are profitable depending on the type of trading strategies and market conditions. Beneficial bots are developed based on the most effective strategy and rules that help best predict cryptocurrency price movements.

Trading bots can be tested and tweaked using historical market data - allowing traders to ensure that the bot is following a profitable strategy. Testing is a mandatory part of using a bot in trading.
However, it is crucial to consider the limitations of cost, risk, and the need for technical expertise. As well as profits, bots can also cause losses. Despite this, trading bots are popular and allow traders to use their time and money efficiently.
Binance trading bots, or bots used on other cryptocurrency exchanges, give you access to a variety of trading strategies, with regular grid trading bots, DCA trading bots, arbitrage bots, bots based on standard technical indicators, etc.
Some Binance bots are free, but most require payment. Advanced traders can also build their trading bots from scratch for free. For free, beginner traders can use drag-and-drop features on several bot platforms to create trading bots with pre-set strategies. All in all, beginners and experienced traders will find something that suits them on every platform.
VPS for Binance: everything you need to know

The best and first decision you should make when you start trading on the exchange is to get a virtual private server optimized for trading on Binance. VPS hosting is a fully isolated, independent virtual server, unlike shared hosting.
A word of caution: it's important not to log in to the Binance dashboard from multiple IPs. Use the IP that is used only for your Binance account so that you will avoid problems with account restriction or authentication requests. When you buy a VPS for Binance, you will automatically get an IP.
Each hosting provider's infrastructure works in their favor - the more global the coverage, the greater the choice of server locations. To use the most famous cryptocurrency exchange, you need to be located in countries supported by Binance. The good news is that you can be physically located in other countries. That's where ISPs come in, offering a variety of locations and server configurations.
Worldwide
International infrastructure with exceptionally reliable equipment in the best data centers - it is is*hosting.
See

Coverage
Every connection failure while working on Binance means a reboot of the entire system. So, it means loss of time, memory leakage, and potential earnings. If you prefer to use trading bots, then feel free to rent multiple servers to host more bots.
Spending precious minutes and money finding a hosting provider for Binance will slow you and your team down considerably. And Binance hosting itself needs to be chosen by experience. To save you time and money, we recommend a proven option - Binance VPS in Japan to save you time and money. Let's consider why Japan is the best choice.
Server configuration for Binance VPS
Japan and therefore the is*hosting servers in the Japanese data centers are the closest in location to Binance. This is already a plus in terms of connection stability.
When choosing a VPS for Binance exchange, the performance of the selected server and the bandwidth are crucial. To save time, consider this configuration option:
Premium Windows NVMe

CPU: Xenon 3x2.90 GHz

RAM: 8 GB

Disk: 50 GB NVMe
Prefer Linux? No problem - you can work with it too.
For experienced traders with high resource requirements, this package is ideal.
If you can start with less power, the minimum requirements for a Binance VPS are a 2.90+ GHz processor, 1 GB RAM, and 25 GB NVMe.
How to rent a Binance VPS for trading bots?
Before renting a server, consider the potential increase in capacity in the future. Buying a more "resourced" Binance VPS now may be cheaper than changing packages later.
So before you buy, choose a location and package and set up a server configuration (choose servers in Japan for lower ping). As we recommend this package for Binance, you can skip the first steps and go straight to ordering. Click "Add to cart" and "Go to Checkout'' to confirm and pay for your order.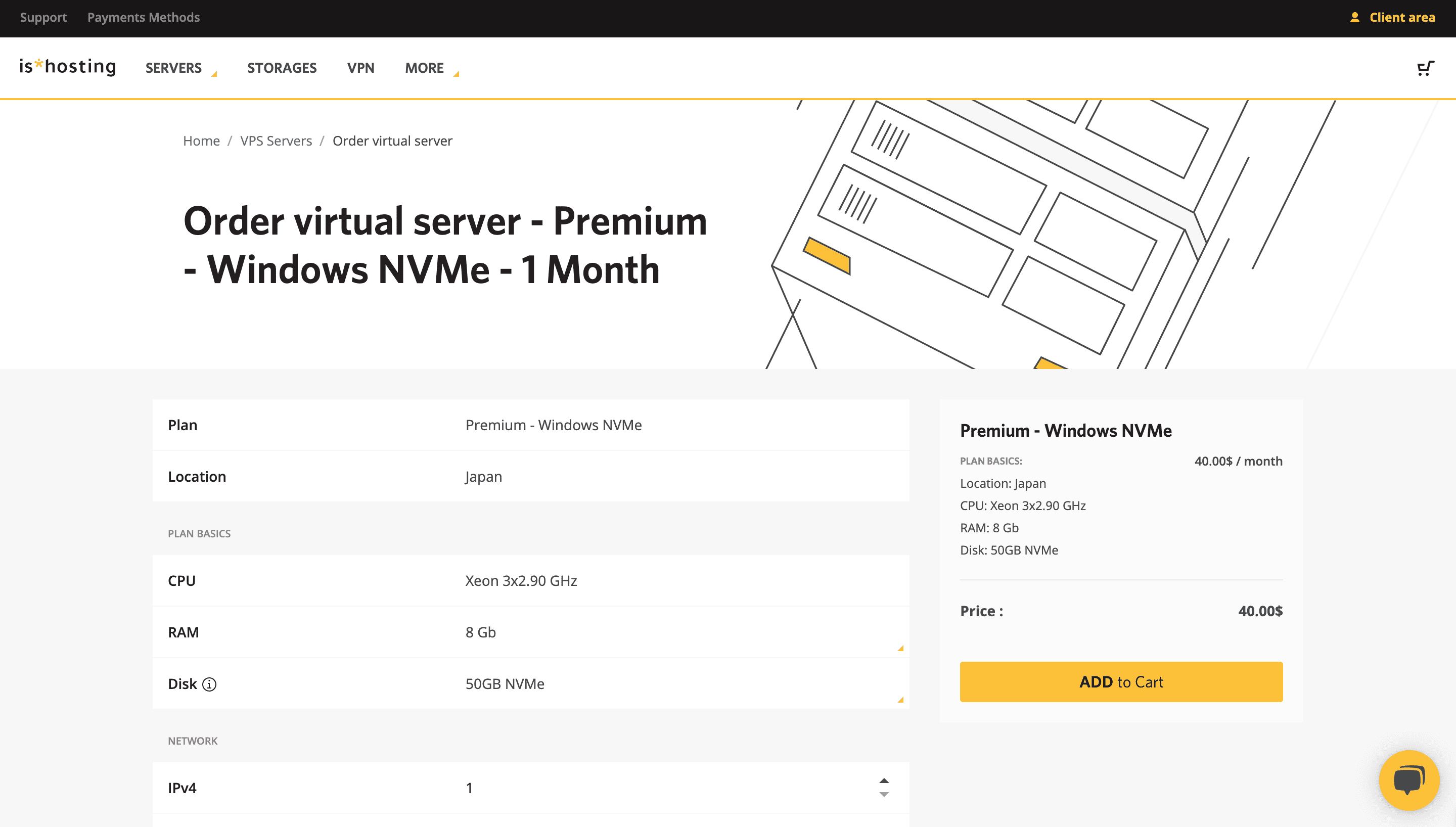 If you have additional requirements or wishes for setting up the server - enter them in the "Note to order" field.
When you confirm your order, check that your chosen configuration is correct. If changes need to be made, delete the chosen package and add a new configuration.
Then pay for the server in any method you like. We accept any bank cards, cryptocurrencies, etc., for payment.
You will receive information about the new server by the email specified during registration. Also, copies of all messages sent to you will be saved in your account.
Once you have received the access keys, the server is entirely at your disposal. Have a great trade!
VPS
Choose the suitable configuration and enjoy all the benefits of a virtual private server.
From

$5.00/mo
24/7 Support
Rely on us. is*hosting technical support is available 24/7 and does not ignore customers.
Read

More