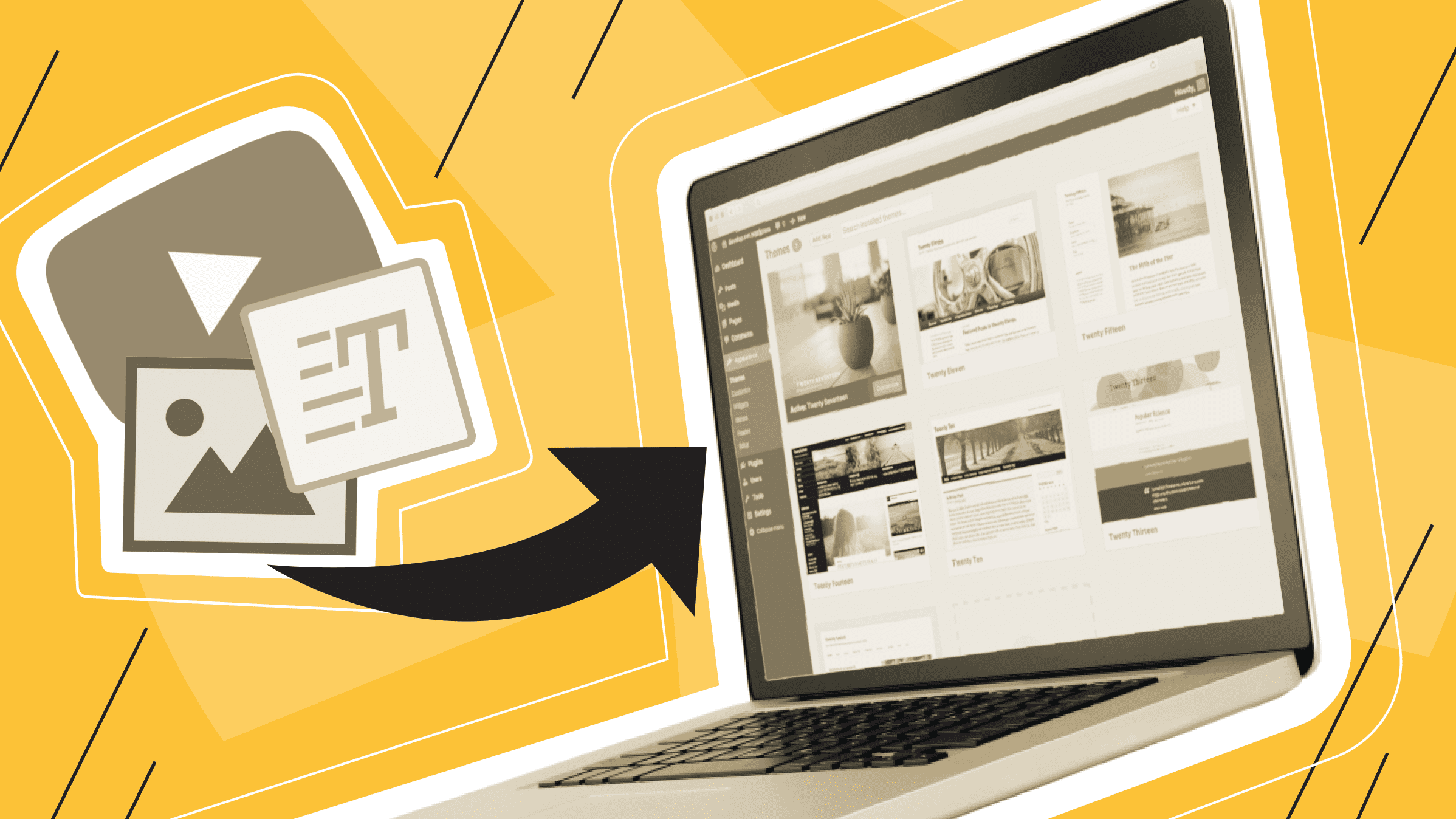 Content Management Systems are easy to operate and can be customized when working with a website. Today, it is possible to choose a system for any kind of online project, but it is still worth paying attention to the basic features of the chosen CMS.
What is CMS?
CMS stands for Content Management System. This software application allows users to create, manage, and publish digital content such as text, images, and video on a website. It doesn't require advanced technical or web skills, as most content is managed without writing code.
CMSs are an excellent solution for websites for several reasons. Important CMS features include:
Firstly, they are easy to use and offer a user-friendly interface. This makes it easier for companies and individuals to manage a website without employing several web developers. However, one specialist is necessary even if you use an off-the-shelf CMS rather than one created from scratch.
Secondly, CMSs often provide several features, such as templates, plugins, and modules, that can be used to extend the site's functionality without developing code.
Thirdly, CMSs are designed to meet the requirements of search engines. In other words, they help optimize content for search engines and improve site visibility.
Finally, CMSs are scalable and can grow with your website as your requirements change. Whether you have a small blog or a large e-commerce shop, a CMS can meet your needs for content management as well as general online activity.

Common CMS Platforms vs Website Builder
A CMS and a website builder are both tools that are used for websites. However, there is a crucial difference between the two — a website builder is used to create a website from scratch, using templates, whereas a CMS helps to manage all the content on a website.
A CMS is usually more comprehensive than a site builder. A CMS is designed to be flexible and scalable, and it often requires more technical knowledge to set up and manage. Website builders are meant to be user-friendly and easy to use, even for beginners.
A CMS is also more customizable. With a CMS, you can change the code and add new features to your website, giving you more control over the functionality of your site.
Overall, a content management system is a more complex tool that will give you more options in the long run. And the choice between these tools depends on your specific needs, technical knowledge, and long-term goals.
How to choose a CMS for a website

It is not an exhaustive list, and website owners have individual requests, but among the main criteria for choosing a CMS for a website are:
Cost. The platform can be paid or free with an additional fee for premium features. Remember that behind any price is advanced functionality that may be useful in the future. And "there's no such thing as a free lunch."
Support and community. The more popular the platform, the more support documentation and tutorials will be available online. Be prepared for the day when you will need to contact technical support. That's why it's worth finding out in advance (e.g., from current CMS users) how good and timely the support is.
The need for technical expertise. Newbies and site owners should consider an "all-inclusive" CMS for faster deployment and easier management. Experienced users may opt for open-source solutions that offer more flexibility.
Customization. The ability to customize your site is essential, but the limitations of the CMS may give you different results than what you want. If you have high customization requirements, consider an open-source CMS + web developer, or make sure the chosen system has the right plugins.
So, having touched on the main criteria for choosing a CMS platform, let's move on to an overview of the most popular options.
Popular CMS overview from the is*hosting team
Given the characteristics of CMS platforms that we've discussed, here are seven examples of the most popular systems with their pros, cons, and use cases.
WordPress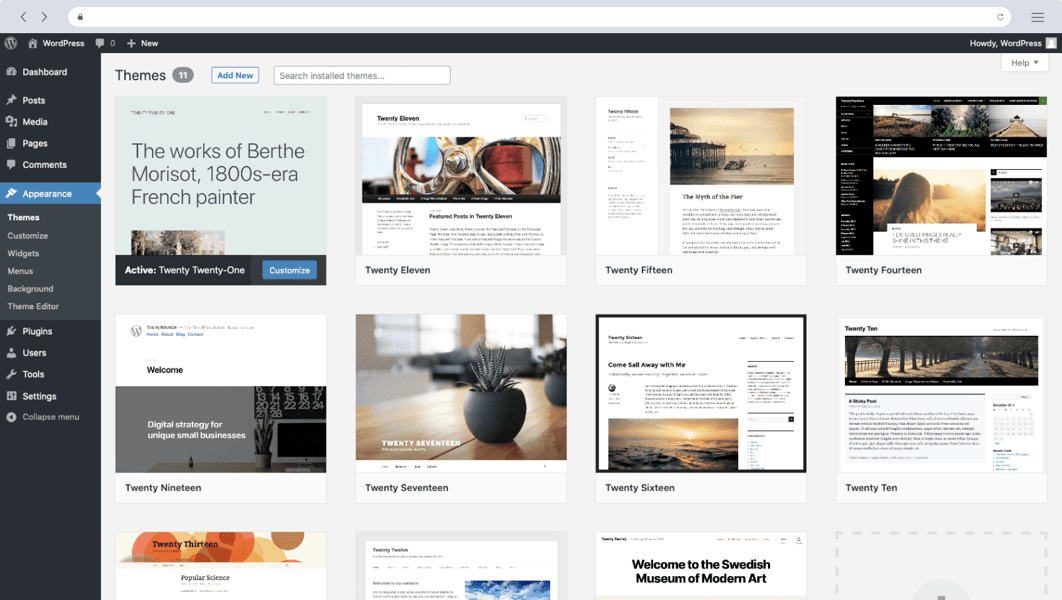 According to W3Techs, WordPress powers 43% of all websites on the internet, making it the most simple CMS and the most popular platform. WP is free and versatile, with countless themes and plugins. Although the platform was originally used for blogs, it can now be used for any type of website.
| | |
| --- | --- |
| Pros | Cons |
| Easy customization with themes and plugins | Easy to hack and poorly protected |
| User-friendly interface | All settings take time |
| Simple and easy indexing by Google | Main sources of information: forums and experiences of other users |
| Integration with social media | Problems with plugins and themes compatibility |
Thanks to a large number of WP websites, you'll find answers to any questions online.
Choose WordPress if... you have a website. This CMS is versatile, but for e-commerce, we recommend considering other platforms.
Joomla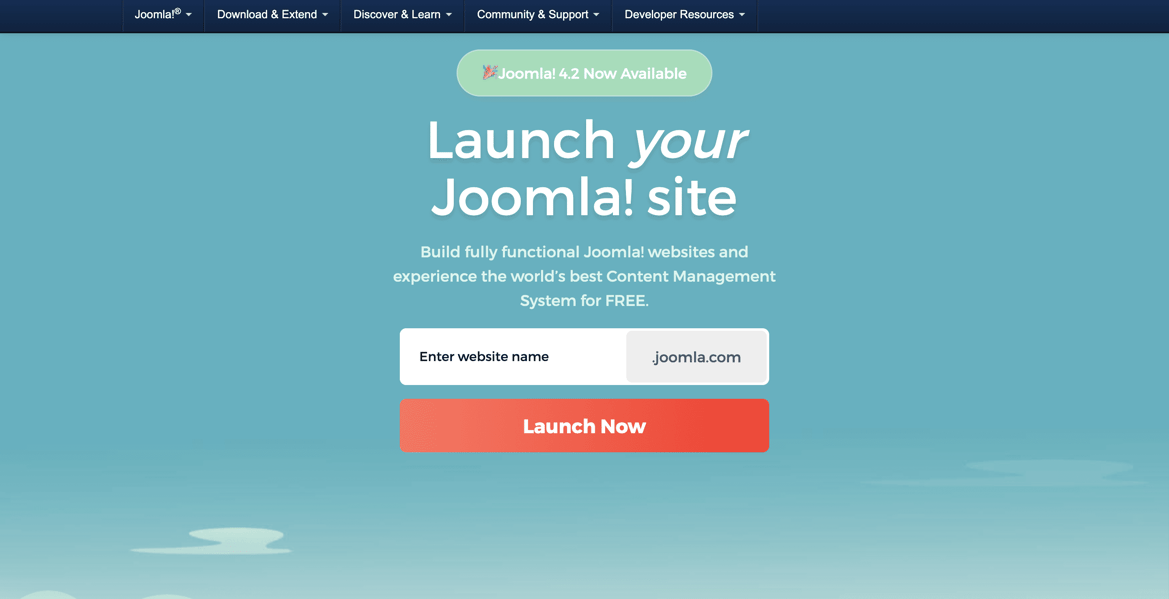 Joomla is a free, open-source CMS widely used for creating and managing websites, from personal blogs to corporate websites and online shops. In addition to plugins and themes, Joomla also offers built-in search engine optimization features to help improve your site's ranking.
| | |
| --- | --- |
| Pros | Cons |
| User-friendly interface | Limited scalability |
| Easy to customize and extend features | Complicated for beginners, and may require help from a web developer |
| Built-in SEO tools | Resource-intensive and limited scalability |
| Community-oriented | Not 100% secure |
Joomla is renowned for its community support, giving users access to a large repository of free and paid plugins and extensions, documentation, tutorials, and support forums.
This CMS is suitable for almost any type of website, as it is similar to WordPress. This includes blogs, personal sites, corporate sites, blogs, and news feeds. Joomla may not be suitable for high-traffic sites due to its limited scalability.
Squarespace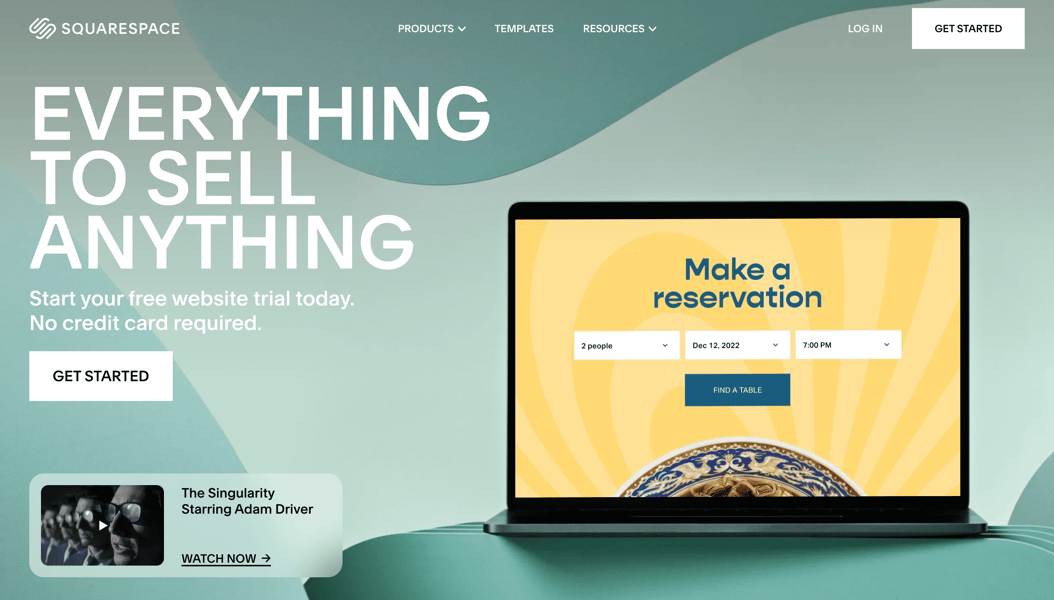 Squarespace is a cloud-based website builder with a drag-and-drop interface. It is known for its modern templates that allow users to easily create professional websites with minimal effort.
This platform offers a variety of pricing plans, ranging from $12 per month for a basic website to $40 per month for an advanced e-commerce site. The CMS is available for a 14-day free trial.
Pros

Cons

User-friendly interface even for beginners

Limited template customization

Modern templates

Cost

Built-in features (email marketing, SEO, etc.)

Few possible integrations

24x7 support
Squarespace CMS has a community of users and developers who provide support through online forums and social media. Help is also available through chat rooms, email, etc.
Personal blogs, portfolios, e-commerce sites, and business websites are all suitable for Squarespace if you're looking for a standout design.
Wix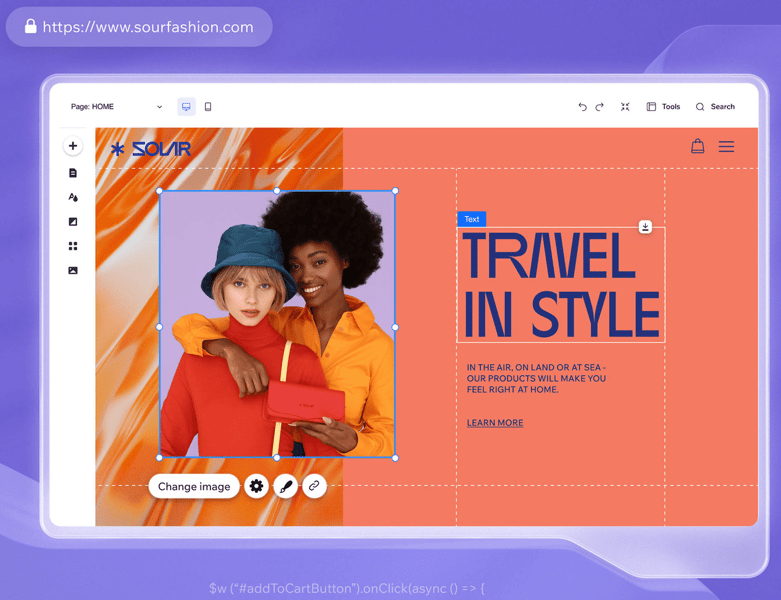 Wix is a popular content management system with a drag-and-drop interface and visual editor. Thanks to its excellent support, you'll always get a "sympathetic ear" and timely help.
You can create a site in Wix for between $14 and $49 per month, depending on the functionality you require. The CMS is also available in a free version, but this includes advertising and restrictions on storage and bandwidth.
| | |
| --- | --- |
| Pros | Cons |
| Various widgets and applications, a collection of templates | An inflexible platform for expanding functionality |
| Secure protocols against cyber attacks | Requires the help of a web developer |
| WYSIWYG site editing (what you see is what you get) | The free version limits development possibilities |
| 99.98% uptime | Limitations in integrations |
This platform is more commonly used by small business owners, freelancers, and non-profits who want to create a simple, easy-to-use website requiring no technical skills. Overall, Wix is as flexible as the previous engines.
HubSpot CMS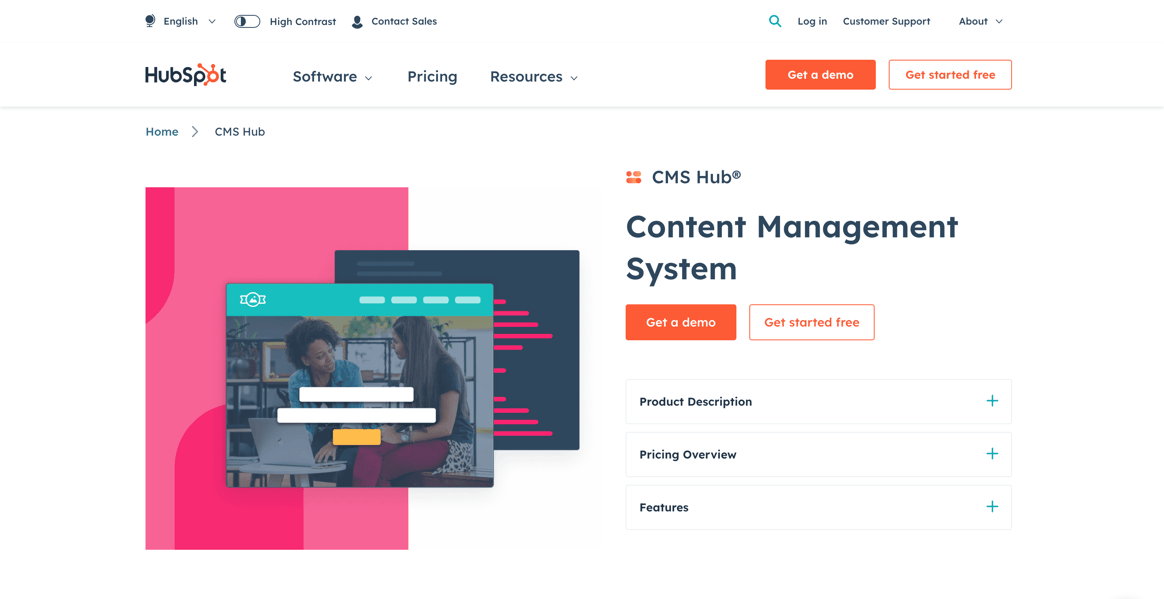 HubSpot CMS is part of the HubSpot platform and integrates with its other tools to provide a complete marketing automation solution. The package of necessary applications allows you to manage your content effectively and track conversions. The platform has a user-friendly interface and a great choice of templates.
The plans are divided into two categories: business and individual. Business packages can be purchased from $360 to $1,200 per month, while small teams range from $22.50 to $360 per month. A free trial is also available.
Pros

Cons

Suitable for full project development

Cost

User-friendly interface, WYSIWYG editor

Difficult for newbies

Customization and smart user targeting

Built-in security features, global CDN, and web application firewall
HubSpot CMS is suitable for small and large projects due to its extensive scalability and marketing tools. You can also use it for E-commerce.
Shopify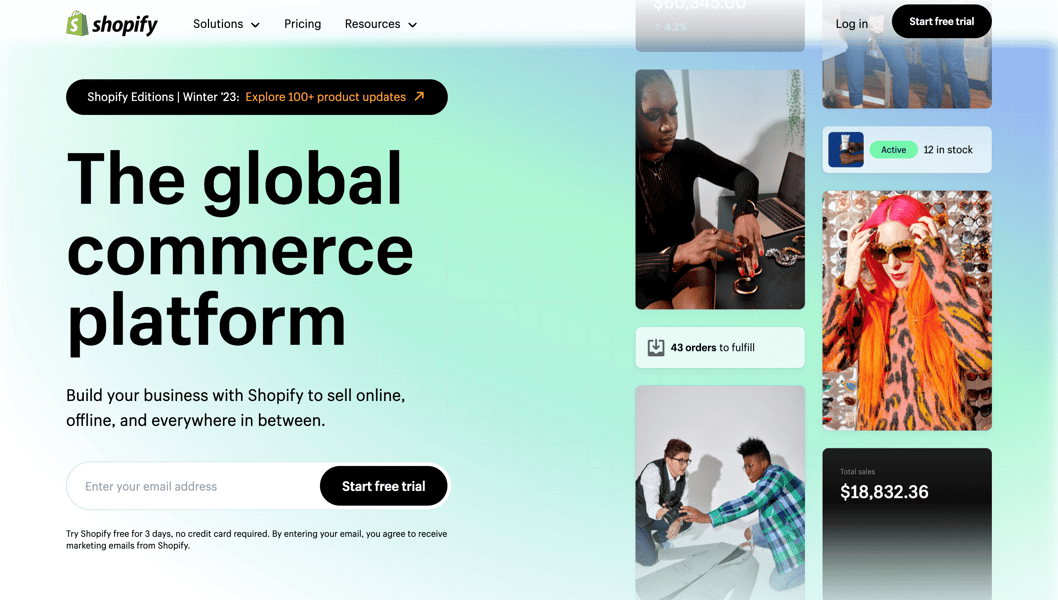 As of 2023, more than 4.4 million websites worldwide are using Shopify. This CMS is widely regarded as one of the most popular for e-commerce.
For commercial businesses, packages range from $24 to $299 per month. However, the site suggests signing up for a free trial and enjoying three months of Shopify for $1/month on some packages. You can also just try the system for three days for free.
Pros

Cons

User-friendly interface and editor

The cost will increase with the use of third-party apps

Integration with payment systems

Limited plug-ins and extensions

Integration with third-party applications

Reliable technical support
Choose Shopify if you have an online store. You'll find convenient content management, marketing tools, a strong e-commerce community, and the right level of security and uptime.
Drupal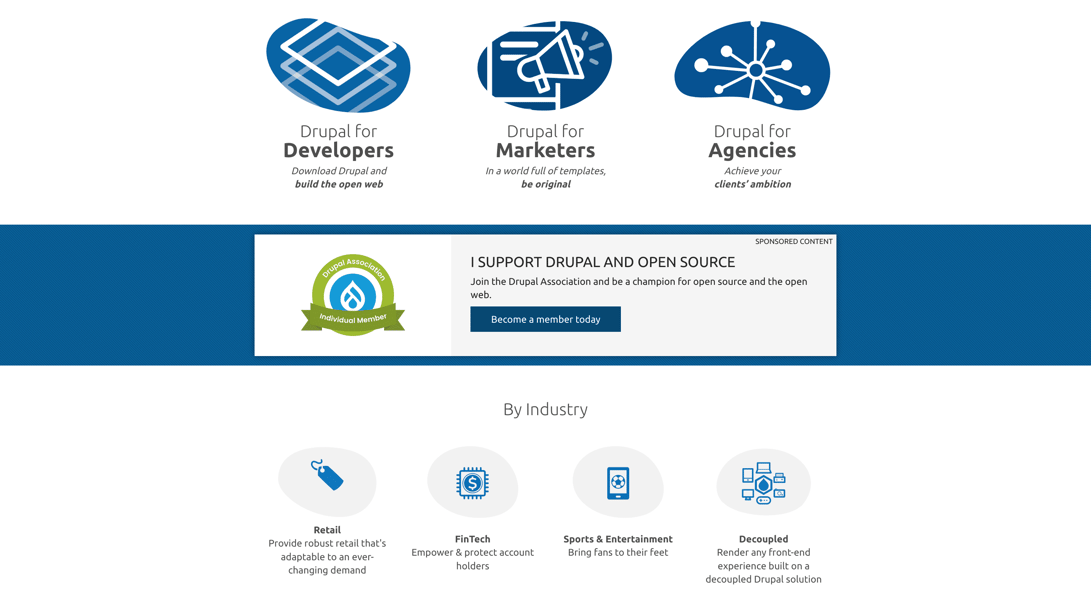 Less famous than its competitors, but a widely used CMS. Great for creating dynamic websites thanks to ready-made templates and themes. Drupal is a platform for complex sites with lots of content and large databases.
Although Drupal is free, its interface is more difficult to use and edit than the market leader, WordPress.
| | |
| --- | --- |
| Pros | Cons |
| Highly effective protection system | Difficult for newbies |
| Great performance | Technical knowledge required |
| Flexible content and site customization | Complicated site editing system |
| Modules to extend the functionality | Expensive customized themes |
You'll always find support within the Drupal community, advice on customization, and feedback on any questions you may have.
This CMS is suitable for any website, but we recommend Drupal for large, multi-page websites for technically advanced teams.
How can I get started?
In summary, CMSs come in both general-purpose and specialized versions. Their cost varies depending on the features offered and the potential for site development. Decide which features of the CMS are vital to you now and which may become critical in the future.
Another thing we recommend is to analyze the competitors in your chosen niche. Look at the CMSs used on other sites and rank them according to your list of criteria. Then test out the content management systems you like.
VPS
Choose the suitable configuration for the website and enjoy all the benefits of a virtual private server.
From

$5.00/mo
Dedicated Server
​​Smooth operation, high performance, and user-friendly setup - it's all there for you.
From

$70.00/mo